UPDATE
High winds to limit visibility on AZ highways
Posted:
Updated: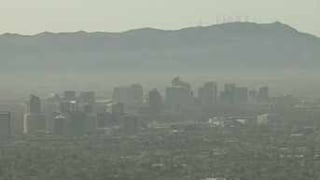 © CBS 5
PHOENIX (CBS5) -
High wind and blowing dust advisories are in effect Tuesday night for a number of counties, including Maricopa, Pinal and Yavapai.
A high pollution advisory is also in effect, the Arizona Department of Environmental Quality said.
A strong weather system is moving into the area, resulting in strong, gusty winds during the evening hours. Look for areas of blowing dust during the evening commute as the wind will gust as strong as 40 mph.
The Arizona Department of Transportation said travel along highways, including Interstates 8 and 10, could be affected by dusty conditions.
Drivers should be prepared to take extra precautions as strong winds can result in sudden periods of limited or zero visibility, ADOT said.
CBS 5 Chief Meteorologist Chris Dunn said this looks like another one of those "dry" cold fronts for the Valley, so it'll be windy Tuesday evening, then breezy with much cooler weather on Wednesday with highs dropping off into the lower 60s.
Arizona's high country will see a few rain/snow showers as this system passes through Tuesday night and Wednesday. The snow level starts out around 8,000 feet, lowering to 4,000 feet on Wednesday. Don't look for much accumulation away from the higher elevations. There could be several inches of new snow over the San Francisco Peaks and White Mountains by Wednesday evening.
Stay with your cbs5az.com and CBS-5 as our meteorologists bring you the very latest information. You can also sign up for CBS-5 weather alerts by clicking here.
Copyright 2012 CBS 5 (Meredith Corporation). All rights reserved.