UPDATE
Babeu pulls out as Tulsa police awards speaker
Posted:
Updated: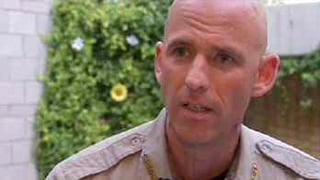 Pinal County Sheriff Paul Babeu
PHOENIX (CBS5) -
Embattled Pinal County Sheriff Paul Babeu won't be giving a speech at Saturday's Tulsa Police Heroes awards ceremony in Oklahoma.
"Sheriff Babeu and the organization running the event both agreed the importance needs to be on the officers, not baseless allegations and attacks made against the sheriff," said Elias Johnson, public information officer for the Pinal County Sheriff's Office.
On Feb. 18, Babeu acknowledged he is gay after a former boyfriend alleged he was threatened with deportation if he ever exposed their relationship.
Maj. Tracie Lewis said the Tulsa Police Department decided to schedule another speaker to avoid any unwanted attention from the ongoing scandal, according to TulsaWorld.com.
At the event, more than 40 Tulsa police officers will receive awards for heroism in 2011.
Attorney General Tom Horne has chosen Solicitor General Dave Cole to head up an investigation into abuse of power allegations against Babeu.
Babeu has asked the Attorney General's office to do a comprehensive investigation that would include looking into the allegations against him as well as Babeu's accusations that he is the victim of crimes like computer hacking and identity theft perpetrated by his ex-lover.
Copyright 2012 KPHO (Meredith Corporation). All rights reserved.