SEE THE BACK STORY
Questions raised about police chief finalists
Posted:
Updated: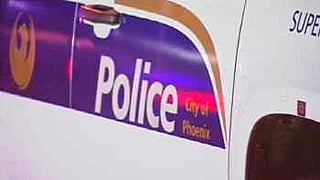 PHOENIX (CBS5) -
The city of Phoenix is looking for a new police chief and the choices are down to the final seven candidates.
"We are very comfortable that these are the top candidates from throughout the country," said Lisa Esquival, deputy personnel director.
Esquival said that the city hired an executive search firm to help find the best person for the job, and it's come down to five external candidates and two from within the Phoenix police department.
CBS-5 conducted its own background check on the police chief candidates, to see if there were any red flags the community should know about
CBS-5 did a simple Google search, after typing in the candidate's names.
One candidate, Carlos Maldonado, is the police chief in Laredo, Texas, but CBS-5 found news reports from 2006 that indicate Maldonado stepped down as state police chief in New Mexico because of allegations that he had an extra marital affair with a state lawmaker.
CBS-5 asked Esquival if that sounds like the best person for the job.
"We'll take all of these things into consideration, as well as their work history,"said Esquival.
Another candidate, Anne Kirkpatrick, is the former chief of police in Spokane, Washington, but lost a high-profile wrongful termination case and was accused of witness tampering.
Former San Jose Police Chief Robert Davis had calls for his resignation in 2009, following allegations of racial profiling and excessive force within his department.
"If any of these candidates were to move to a 2nd interview we would do a very thorough background check, hiring a private investigator to look at everything," said Esquival.
The seven finalists met with the public and city leaders during an informal reception Thursday night.
They'll take part in a grueling interview process in front of three separate panels on Friday.
CBS-5 wanted to know if there would have been any better qualified candidates.
"We looked at the number of candidates and we felt like we had the best qualified candidates that we invited," Esquival said.
Copyright 2012 KPHO (Meredith Corporation). All rights reserved.