Immigrant advocacy group wants DOJ to investigate Babeu
Posted:
Updated: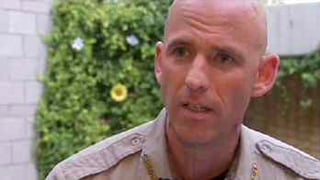 Pinal County Sheriff Paul Babeu
PHOENIX (CBS5) -
An advocate for immigrant and civil rights asked the Department of Justice Monday to open an investigation of Pinal County Sheriff Paul Babeu.
Lydia Guzman, director of the nonprofit immigrant advocacy group Respect/Respeto, is asking DOJ to look into allegations of misconduct made by a man with whom the sheriff previously had a relationship.
Babeu on Saturday denied claims he tried to threaten the man, who is Hispanic, with deportation if their past relationship was made public.
Here is the text of Guzman's letter to Roy L. Austin, deputy assistant attorney general:
Dear Mr. Austin,
I write to request that an investigation be launched into the Pinal County sheriff, Paul Babeu, in the matter related to an allegation of abuse of power.
Recently an article in the Phoenix New Times reported that a migrant individual had an affair with Sheriff Paul Babeu of Pinal County, Arizona. The article detailed text messages, pictures and threats that are unbecoming of an elected sheriff. The threat was to have this young man deported if he shared this information.
The item of concern is whether or not the sheriff abused his position of authority, as an elected official and as a law enforcement officer, to make these threats in exchange for this young man's silence.
Our hotline receives a variety of calls of this nature from migrants afraid to report that they are being abused. The nature of the calls range; from landlords threatening their tenants, bosses threatening their workers and husbands threatening their wives. The callers mention that the abusers all say the same thing, "If you report me, I'll have you deported."
One of the most concerning part of this act is that the threat came from the top law enforcement officer in Pinal County, a person who's sworn to protect and serve victims of crime. These types of threats and acts of intimidation send a horrible message to the migrant community that they cannot look to their law enforcement agencies for protection when they are victims of a crime.
It is my feeling that neither an elected official nor a law enforcement officer should abuse their positions to make such threats upon an individual in exchange for their silence and this is why I am respectfully requesting an investigation into this matter.
Sincerely,
Lydia Guzman
Director Respect Respeto
Copyright 2012 KPHO (Meredith Corporation). All rights reserved.