ASU researcher: Babeu's political future already damaged
Posted:
Updated: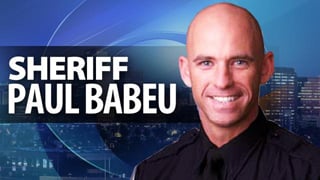 PHOENIX (CBS5) -
After some recent allegations against Pinal County Sheriff Paul Babeu, one valley political analyst said what the sheriff is facing could be damaging whether he is guilty or not.
Babeu is in the middle of a political crisis, but he has been very clear and said Saturday that he will continue his run for congress.
Babeu had become such a big name in Arizona that even Senator John McCain asked him to be a part of a 2012 advertisement when McCain was running for re-election, but that fame may have taken a tumble this weekend, according to senior research fellow at Arizona State University's Morrison Institute for Public Policy Bruce Merrill.
"There's just no question that this will hurt him," said Merrill.
He predicts Babeu voters in the conservative congressional district 4, where Babeu is currently campaigning, will react strongly to the recent allegations made against Babeu.
"I just think that any reasonable person would come to the conclusion that this hurts any possibility of him being elected, considerably," said Merrill.
Flanked by supporters Saturday, the Pinal County sheriff confronted allegations that he had threatened to deport an ex-boyfriend if the relationship went public.
Babeu acknowledged the relationship with the man but denied any misconduct.
Merrill believes this latest drama in Arizona politics will turn off voters on a week where they should be engaged with the upcoming republican presidential debate in our state.
"In this case, this is going to take focus away from some really big issues we have in Arizona," said Merrill.
Babeu announced Saturday that he stepped down as the Arizona co-chair of Mitt Romney's presidential campaign.
Copyright 2012 KPHO (Meredith Corporation). All rights reserved.