UPDATE
Phoenix Police: Officers' bulletproof vest failed test
Posted:
Updated: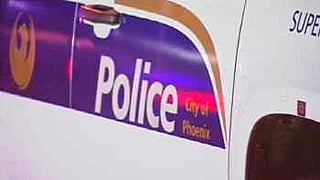 PHOENIX (CBS5) -
Authorities in Phoenix are asking for immediate action after they found that hundreds of protective vests worn by Valley cops may not stop bullets.
Phoenix Police officer Anthony Daley, 30, was seriously injured when a bullet pierced through the bottom edge of his ballistic vest in November. A similar vest was tested Thursday and the results released today.
According to national standards, the vest failed the tests. The first round fired went right through the center of his vest, police said at a news conference Friday.
Hundreds of officers on the Phoenix Police Department alone could be wearing these.
"I've spoken to both city manager David Cavazos and Chief [Joseph] Yahner this morning and they both assured me that officers who chose to purchase these particular vests can immediately get a different vest, one that Phoenix Law Enforcement Association has more confidence in and will be appropriately reimbursed. There won't be any financial issue from the city's perspective, officer's safety, of course, is our highest priority," Stanton said.
According to authorities, the vest that was tested was similar to Officer Daley's, down to the lot number.
Manufacturer: Custom Armor Technologies
Threat Level: IIIA
Model Number: QVA-3A-1
Serial Number: 03005357
Lot Numbers: 400010122119 and 1000076399
Manufacture Date: May 12, 2008
The 100 Club of Arizona is raising money to keep police officers safe. CBS 5 and Cox are "Paying It Forward" to help insure their safety. A phone bank was held at CBS 5 Friday night. More than $16,000 was raised by your generous donations. If you'd still like to donate, you can do so on the 100 Clubs of Arizona's website.
Copyright 2012 KPHO (Meredith Corporation). All rights reserved.