City council publicly chides crime photo abuse
Posted:
Updated: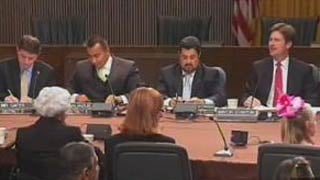 PHOENIX (CBS5) -
Several members of the Phoenix City Council publicly spoke out about the crime scene photo scandal that is currently under internal investigation by the Phoenix Police department.
Four council members -- Jim Waring, Sal DiCiccio, Bill Gates and Thelda Williams -- signed a letter asking the issue be put on the formal agenda for Tuesday's policy meeting.
Mayor Greg Stanton put the item on the executive session agenda, a closed door meeting that took place before the open policy meeting.
Stanton said he did that not to avoid or dissuade the council from talking about the issue publicly but because he was acting on the side of caution to not overstep council boundaries.
"The issue is actually not whether the council should speak their mind, of course they should speak their mind, it's just whether or not we would be getting involved in disciplinary issues or personnel issues which would actually be a violation of our charter. So for me it was just a matter of trying to make sure that city council takes appropriate action but doesn't overstep our bounds, which actually might put the underlying investigation at risk," Stanton said.
Last week, Acting Phoenix Police Chief Joe Yahner placed two sergeants and four detectives on administrative paid leave for their alleged involvement in slideshow that was played at a private squad party in December. It included unauthorized crime scene photos of dead bodies.
Waring publicly apologized to the family members of those whose loved ones may have been exploited in the photos.
"What I really want to do was reiterate to victims that we do care about them and that we aren't going to use their images or their likenesses or their family's likenesses in any way that's inappropriate," Waring said.
Councilman DiCiccio asked the city manger to look deeper into the possibility that if CBS 5 News had not brought the investigation to light, that the council and mayor would have never known about the alleged misuse of the photos.
The internal investigation has been going on since mid-December. A Phoenix Police spokesman said that the slideshow incident is also under review by the department's legal advisers to see if a criminal investigation is warranted.
Copyright 2012 KPHO (Meredith Corporation). All rights reserved.