Recognizable Arizona residents are even older than the state
Posted:
Updated: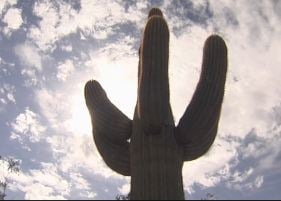 TEMPE, AZ (CBS5) -
Let's face it, not many of us were around when Arizona became a state in 1912.
But one unique group of residents were. The saguaro cactus is one of our state's most recognizable symbols.
"When you come to Arizona it's the only place you'll see a saguaro cactus in the continental United States. It's one of the largest cacti there is in the family as well," said Scott McMahon of Desert Botanical Garden.
Full grown saguaros have been around much longer than Arizona has been a state. They can live for 150 to 200 years.
Like Arizonans, the saguaro is tough. Their only real enemy is extreme cold. A hard freeze is one of the few things that, over time, can take this big cactus down.
"They can take the heat here in the summertime, they can go for months and months without any water at all," McMahon said.
They're more than just a majestic, statuesque desert plant. The saguaro produces flowers and fruits that many Native Americans have been dependent on, and they help provide food and shelter for the animals that live around and inside them.
McMahon said the saguaro is a "kind of a link pin to hold everything together around here in the natural habitat."
Fully grown, the average height of a saguaro is about 25 feet tall, and their shallow roots are only 1 to 2 feet below ground. Those roots will ultimately spread out more than 30 feet around the plant.
Copyright 2012 KPHO (Meredith Corporation). All rights reserved.