Group walks same path AZ's first governor took
Posted:
Updated: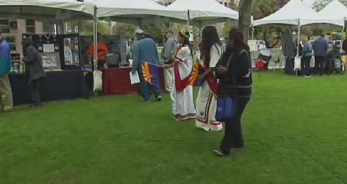 The Centennial Celebration kicked off bright and early Tuesday morning with a historic walk down the same path that Arizona's first governor took.
Dozens took part, starting near what was once old City Hall, and marked their way to the state capitol.
Don Shields played the first governor himself, Gov. George Hunt. It was a part he got by default working in the capitol museum.
"The children that came through would notice when I was sitting at the desk that I looked a lot like Hunt and they would say 'you look like the man upstairs,'" Shields said.
Shields was honored to lead the group Tuesday morning.
"That's exactly what Gov. Hunt did on that first inauguration day. He was offered two vehicles as he exited the Ford Hotel and he says 'I walked into Arizona and I'm going to walk into statehood.'"
Most importantly, these folks hope this march sends an even bigger message: one of tolerance and unity and not one of hate and unrest.
"This is a great time to come together and to bring the people of Arizona together," said Alyssa Garcia, another member of the walk. "It's a time to forget all of those issues and a time to celebrate."
Copyright 2012 KPHO (Meredith Corporation). All rights reserved.