SEE THE BACK STORY
City to discuss crime scene slides behind closed doors
Posted:
Updated: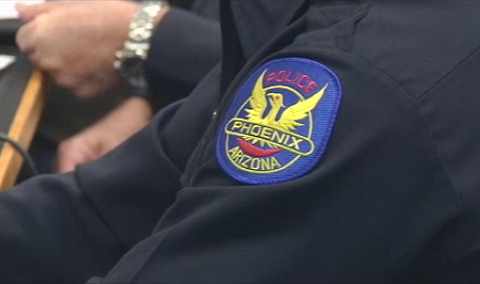 PHOENIX (CBS5) -
The fallout is expected to continue from a holiday party at which slides of crime scenes were shown by Phoenix Police officers.
But what action the city might decide about the policy regarding such behavior won't be immediately known because the issue is being discussed behind closed doors at noon today, instead of in a public forum.
Acting Phoenix Police Chief Joe Yahner has already placed two sergeants and four detectives on leave pending an internal investigation into the showing of local crime scene photos - some of dead bodies - that reportedly made it into a slide presentation used as entertainment at the squad holiday party.
Multiple sources have confirmed for CBS 5 News that a higher ranking supervisor, a police lieutenant, was also at the party.
That lieutenant reportedly told his commander about the slideshow, but neither took any action, the sources said.
The internal investigation got under way only after an anonymous complaint, and it wasn't until CBS 5 News filed a public records request about the probe that the chief learned of the slideshow and placed the six investigators on leave.
"We'll hold those individuals accountable for what they did," Yahner said. "It was unacceptable and it was unprofessional."
Newly elected City Councilman Jim Waring and three other council members signed a letter requesting the city policy surrounding crime victims be discussed at a Tuesday policy session, which is open to the public.
"I don't care what rank they were. They should, frankly, have enough sense to know that this is not acceptable behavior," Waring said.

"I wanted a chance to say that is not City of Phoenix policy," Waring said. "I reject that behavior. I want to send the strongest message possible, which I thought should be at a public meeting."
But Mayor Greg Stanton put the issue on the agenda for an executive council session on Tuesday - not the session open to the public.
CBS 5 News asked if the lieutenant who was at the party will also be put on leave.
A spokesman said the internal investigation is on hold until they figure out if a criminal investigation is needed.
Stay with cbs5az.com and CBS 5 News as this story continues to develop.
Copyright 2012 KPHO (Meredith Corporation). All rights reserved.