See the Back Story
Militia idea pits AZ vs. USA
Posted:
Updated: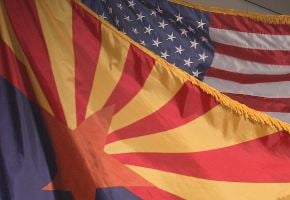 PHOENIX (CBS5) -
As we celebrate Arizona's centennial, our state is picking yet another fight with the federal government.
We have already gone to battle with the feds over immigration enforcement, healthcare, voting rights and employer sanctions.
Now, state lawmakers are thinking of creating our own militia to patrol the border with Mexico.
"Arizona is the feisty child in the Union," said Clint Bolick from the Goldwater Institute, a conservative think-tank based in Phoenix.
Bolick said the individual spirit is deeply entrenched in Arizona, but the recent reinvigoration for federalists came courtesy of the Bush administration, which sued Arizona over English language learning in our schools.
The U.S. Supreme Court sided with Arizona.
"I think that case proved that if we go our own way, so long as we're true to American constitutional principles, we'll prevail," said Bolick.
Since then, Arizona has become the role model for state autonomy.
"We're one of the youngest states and yet we could have as our motto the motto of one of the oldest states, New Hampshire. 'Live free or die,'" said Bolick.
Copyright 2012 KPHO (Meredith Corporation). All rights reserved.