Centennial Celebration underway
Posted:
Updated: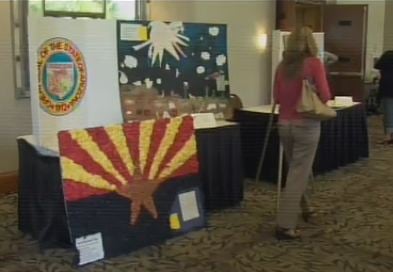 MESA, AZ (CBS5) -
This week, Arizona is celebrating its 100th birthday.
The official day is Tuesday, but the party has already started.
Today, the Scottsdale Area Association of Realtors teamed up with local fourth-graders and Retired Supreme Court Justice Sandra Day O'Connor for a multi-part program designed to teach each other the history of our great state.
The event was dubbed "The Passage of time: A History of Arizona."
"It was just great to have the children to engage in what they feel is so important about where they live and the things that are special to them and in tying that into home ownership so it really is a good connection," said Rebecca Grossman, with the Scottsdale Area Association of Realtors.
The event showcases 16 historical exhibits by Scottsdale School District fourth-grade classes.
Copyright 2012 KPHO (Meredith Corporation). All rights reserved.