Legislature could fund state militia for border
Posted:
Updated: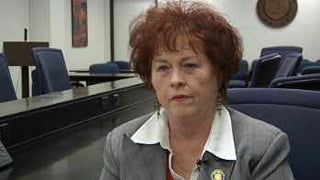 State Sen. Sylvia Allen
PHOENIX (CBS5/AP) -
Some are calling a bill making its way through the state capitol even more controversial than SB 1070. SB 1083 would give weapons to average people and grant them the power to patrol the border.

The Arizona Special Missions Unit, as one lawmaker calls it, would take a group of 150 or so volunteers, arm them, train them and put them at the border. The bill's sponsor says it's an inexpensive way to make up for what the federal government's not doing, but opponents say it's tragedy waiting to happen.
"This is how we would save money in our state," said State Sen. Sylvia Allen, a Republican representing District 5 and author of SB 1083. She said the unit would start with 150 to 200 volunteers and would supplement, but not replace, good old-fashioned law enforcement.
"Like all law enforcement in our state, of course they would be armed," Allen said when we asked if the volunteers would carry weapons. With a budget of about $1.4 million, the Special Missions Unit would have the power to detain and arrest until a law enforcement agency took over. Allen said the volunteers must pass a fingerprint check, a polygraph test, psychological evaluations, an employment application, fitness tests and swear by an oath. But not everyone's on board.
"It will bring out any nutbag from under a rock, including white supremacist groups," said State Sen. Steve Gallardo, a Democrat from District 13. He said rather than arm volunteers, we need to properly fund law enforcement and send out the National Guard when necessary. Even Adjutant General Hugo Salazar with the Arizona National Guard has expressed concerns over SB 1083.
"There are a lot of things that have to occur before I feel comfortable putting a weapon in a volunteer's hands," Maj. Gen. Salazar said in a committee hearing last month.
But Allen said this is a way to send a clear message to the federal government.
"Arizona is willing to do whatever it takes to protect our state," she said. "We still have an issue of public safety, which is our responsibility to address, and that's what I'm trying to do with this bill."
We asked, if something goes wrong or someone is accidentally shot, is the state liable? In this bill, a volunteer would be immune just like a member of a law enforcement agency as long as they were acting under a direct order. Allen said the money will come from a fund created last year in a new fund border security, so she said it's already set aside. This bill is scheduled for a committee hearing Tuesday.
Copyright 2012 KPHO (Meredith Corporation). All rights reserved. The Associated Press contributed to this report.