Cat fight! AZ man boycotts Doritos over Super Bowl ad
Posted:
Updated: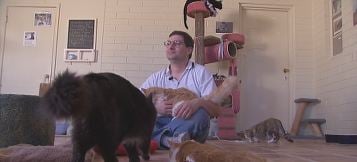 PHOENIX (CBS5) -
Nohl Rosen loves cats.
"They're independent, they give you a lot of joy, they don't judge you," Rosen said.
But Rosen is quick to judge the Doritos ad first aired Super Bowl Sunday.
It showed a dog burying a cat collar, and it just so happens there's a missing kitty in the neighborhood.
At the end, the big old pooch bribes his owner to keep his mouth shut with a bag of Doritos.
"I'm appalled that someone would think it's amusing to abuse an animal. That killing a cat is amusing. It's not amusing to me," Rosen said.
He's hissing mad about the commercial.
"I was absolutely horrified," he said.
Rosen is so ticked off he's started a petition to get it off the air.
In the meantime, he's boycotting anything made by Frito Lay or Pepsi.
"It's tough to give up something you enjoy, but at the same time you have to make a stand and do what you feel is right for you," Rosen said.
It seems about 1,600 people agree.
Petition signers have posted things like, "Shame on Doritos for being a part of this year's tasteless Stuper bowl ads," and, "With all the positive ways of using humor, why would you choose this approach."
To the people who might say it's just a cute commercial that wasn't meant to be taken seriously, Rosen said...
"I think they're a little desensitized to the issue of animal abuse because it happens every day and it happens in real life."
Check out the Doritos ad here.
You can find Rosen's petition here.
Copyright 2012 KPHO (Meredith Corporation). All rights reserved.