Baby born early so dying father can hug her
Posted:
Updated: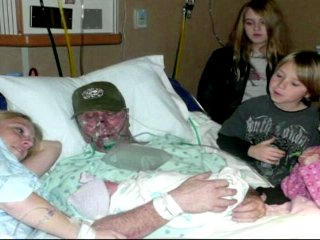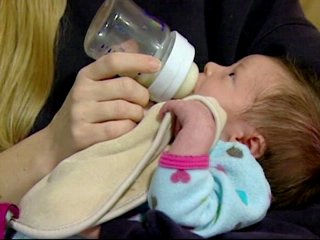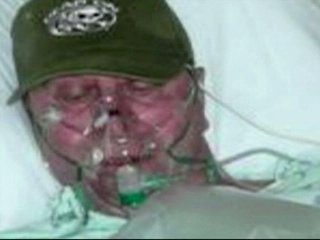 DALLAS (CNN/WFAA/KCTV) -
Baby Savanah Augler doesn't know her birth is a story about life, loss and courage.
She doesn't know that as her family celebrates her birth they are trying to find the strength to move forward from a tragic loss. That's because little Savanah was born prematurely just so her dying father could hold her.
Life seemed to be turning around for Mark Augler. Just before Christmas, the north Texas man learned he had beaten cancer. Wife Diane was due to give birth in early 2012 to their fifth child.

It was a joyous holiday. They celebrated and Mark played guitar as Christmas gifts were handed out. Then their lives were shattered.

Mark, 52, learned that eight months of chemotherapy had destroyed his lungs.

"It was basically like his lungs were soaked in concrete. They couldn't inhale; they couldn't pass oxygen through the body. He was in essence suffocating to death," Diane recalls.
But in early January, Mark was given just days to live after a diagnosis of pulmonary fibrosis.
The couple hoped steroid treatments, oxygen or anything would provide him the chance to see his children grow up. But it wasn't to be.

His wife decided to be induced two weeks early so he could meet his baby girl.

"He got to be the first one to hold her. He held her for 45 minutes after she was born," Diane said.
They cried. Mark sobbed and smiled as he gently stroked and cuddled his baby girl.

Those precious moments are what the family now clings to.
Because shortly after that, Mark fell into a coma. Diane, 31, was in her hospital bed recovering when she had to shatter their children's lives by telling them that their Daddy was dying.
Diane broke down when recounting those awful moments.

"My 10-year-old said, 'Is Dad asleep?' And I said, 'No, he's in a coma.' And he said, 'He is going to make it?' And I said, 'No.' And he screamed and my 8-year-old screamed and cried, 'I'm not going to have a daddy.'"
They crept to his bedside and prayed. And then when the final moments came on Jan. 23, Diane cradled their baby daughter in her soulmate's arms.
"His heart rate started to drop, his breathing started to drop, I put her in his arms and I held his hand until he died," his widow recounted.

The couple's story touched so many, even the workers at a company the family had been working with before Augler became sick volunteered their time to replace the couple's roof.
"He had dreams and aspirations to get his home in that condition, and we wanted to help bring that through even though he's not here," roofer Jay Coleman said.
Diane told ABC News that her husband "was a very funny guy," and his children are still adjusting to his absence.
"The kids go on as if dad is really still here," she said. "My kids still tell jokes how they would when he was around. He would have been a wonderful daddy to Savanah."

And while her heart is breaking, Diane is struggling to protect her children, mourn her husband and celebrate a new life.

"My children keep me going. I have no choice," she said. "She is the ray of sunshine in our sorrow."
To read the original report by WFAA in Dallas, click here.

Copyright 2012 KCTV5/CNN/WFAA. All rights reserved.