SEE THE BACK STORY
ONLY ON CBS 5: Daughter allegedly beaten by mom speaks out
Posted:
Updated: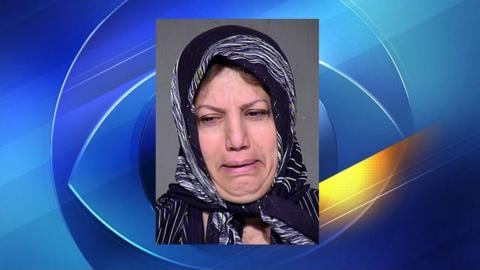 Yusra Farhan
PHOENIX (CBS5) -
A Valley woman is accused of beating her daughter and tying her to a bed because she caught the young woman speaking with a man.

Phoenix Police arrested Yusra Farhan, 50, Wednesday night at St. Joseph's Hospital, where her 19-year-old daughter was being treated for her injuries. Aiya Altameemi told police her mother beat her with her hands and a shoe, before tying her to her bed with a rope around her waist to prevent her from leaving the house.

The family is Iraqi, and Farhan told officers that in their culture females are not allowed to have contact with males, and the daughter is not allowed to have a boyfriend.
CBS 5 caught up with Aiya, who was with her three sisters and father after just coming home from the hospital. She denied being tied up. We asked her about the beating, and her mother's arrest for assault.
"Here it is not allowed but for me, it's normal," she said, adding she is slapped just like most other teenage girls who are disobedient.
When we asked why her mom hit her, Aiya explained, "because I talked to boy and that's not normal with her, and that's not my religion. My religion says not talking to boys."
We spoke with Dr. Souad Ali, a professor of Middle Eastern Studies at ASU. She explains in the Arab culture, hitting your children is not perceived as abuse. It's considered discipline to protect them.
"The mother here feels probably that any encounter with a male might lead to consequences that might affect the daughter's future," Dr. Ali explained.
Farhan was arrested on charges of aggravated assault, unlawful imprisonment, and resisting arrest.
Farhan called out to family members to help her fight off police, according to court paperwork. Those family members had to be restrained in the hospital's emergency area, according to police.

Dr. Ali says to consider the cultural context when looking at why Farhan would resist arrest.
"If they were all male, I think she was very much resisting them because she didn't want them to touch her," Dr. Ali explained.
The family says their mother was expected to return home Friday.
Copyright 2012 KPHO (Meredith Corporation). All rights reserved.