New affordable housing for veterans breaks ground
Posted:
Updated: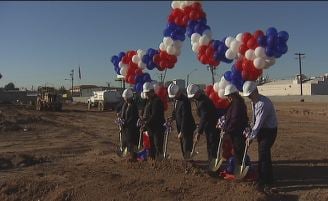 PHOENIX (CBS5) -
Valley veterans looking for a place to come home to will soon have a new option.
City leaders broke ground on the $12 million Madison Pointe Apartment Homes project, which is designed to help provide affordable housing to U.S. veterans and their families.
It's estimated that around one thousand of the valley's homeless population have served in the U.S. military.
"Most young soldiers or marines are married and have a young family," says Col. Joey Strickland of the Arizona Department of Veterans Services. "And so we need to address the entire family to ensure that the family and the veterans don't fall victim to homelessness."
The project will provide sixty units with up to three bedrooms, full kitchens, ceiling fans, private patios or balconies, and in-unit washers and dryers in each. Some units have been set aside for funding through government grants.
"It will be gated, it will be private," Strickland said, "and it will be a place that offers him and his family or her and her family a sense of dignity."
Madison Pointe is scheduled to open in Fall of 2012.