UPDATE
Dated newspapers give landfill searchers ray of hope
Posted:
Updated: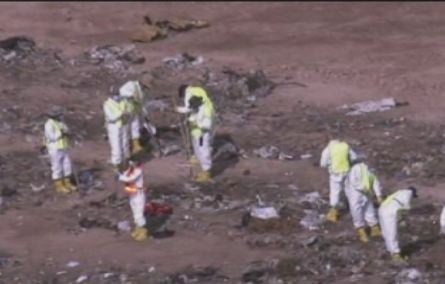 MOBILE, AZ (CBS5) -
Crews are in day four of a landfill search south of the Valley for a missing Glendale girl.
Searchers are sifting through trash at the Butterfield landfill, looking for the body of 5-year-old Jhessye Shockley.
Police believe she was killed and then her body was dumped in a trash bin in Tempe.
Glendale police said Thursday they have found trash from Tempe that they believe was thrown out around the time it's believed the little girl's body was dumped.
Glendale police told CBS 5 News Wednesday that they have found newspapers dated just days before they believe her body was dumped.
They said they took some of the top layer off because they believe Shockley's body might be in an 8- to 12-foot section under the top.
Jhessye was reported missing on Oct. 11, 2011.
Officials say the landfill search could take up to six weeks.
Related
Copyright 2012 KPHO (Meredith Corporation). All rights reserved.