Phoenix police officers accused of misconduct
Posted:
Updated: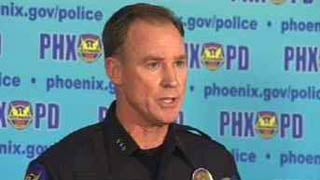 Acting Phoenix Police Chief Joe Yahner
PHOENIX (CBS5) -
There's been a major shake-up inside the Phoenix Police Department.
Two supervisors and four detectives have been reassigned and placed on paid administrative leave, according to Chief Joseph Yahner.
Yahner said the individuals were all involved in unprofessional conduct, stemming from a holiday party last December.
An anonymous source had tipped off authorities that a 30-minute slideshow was presented at the party, showing photos from various crime scenes, which included images of some victims.
According to Yahner, all of the cases were from non-criminal death investigations; however, Yahner said this was a clear violation of the public's trust.
"I am extremely disappointed in the unprofessional conduct and the total lack of respect shown to those we are entrusted to serve," said Yahner. "This presentation was extremely unprofessional, inappropriate and unacceptable. Many of the images appear to be of crime scenes, possibly taken during detectives' duties."
Mayor Greg Stanton was equally angry.
"I am outraged by the information coming out of the police department," Stanton said in an official statement issued Wednesday. "The critical role of public safety is to protect the community and give respect and dignity to the victims of crime. Any violation of that trust is unacceptable.
"We need to let the investigation unfold pursuant to the requirements of state law. But let me be clear, for whoever is found to be involved, this behavior will not be tolerated," Stanton continued. "I have been a longtime advocate of victims' rights and I will not accept anything less than the absolute support for the victims of crime and their families.
"The community's trust is one of the most valuable assets we have and today I believe that this trust has been violated. I have expressed these views to the police chief and the city manager and I have told them that I expect immediate action to ensure that the culture of the police department does not allow this to happen again," Stanton's statement concluded.
The chief said that criminal charges could be filed against the individuals involved, but said he could not discuss any specifics about the case since it is an ongoing investigation.
Copyright KPHO 2012 (Meredith Corporation). All rights reserved.