More than half of all pets are overweight
Posted:
Updated: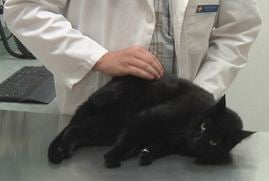 PHOENIX (CBS5/AP) -
The latest veterinary survey says more than 50 percent of our nation's pets are overweight. And we, as pet owners, are responsible.
"There's no pet out there that can open a can of food and put it in his bowl and take a meal and eat, so it really boils down to us as pet owners. We're overfeeding them," said Dr. Bruce Vernon of Banfield Pet Hospital in Chandler.
Most pet owners aren't even aware they're overfeeding their pets.
"We give them a biscuit, give them the fat off our steak. That's how we show them we love them. We've got to find other ways to show our pets we love them. Go out and exercise, or play ball with them. That's healthy for them, and healthy for us," said Vernon.
Vernon adds that overweight pets can suffer from the same debilitating conditions as humans. Diabetes is becoming more common in pets, as are heart problems and arthritis. These three major problems are directly associated with weight and are easily fixable.
Vets simply want pet owners to keep in mind that what and how much you feed your pet can - and will - affect their lives. Also, getting your pet into the vet's office at least twice a year will help ensure they're on the right nutritional path.
To read the full study, click here.
Copyright 2012 KPHO/AP (Meredith Corporation). All rights reserved.