UPDATE
I-10 W between 59th-67th avenues reopens
Posted:
Updated: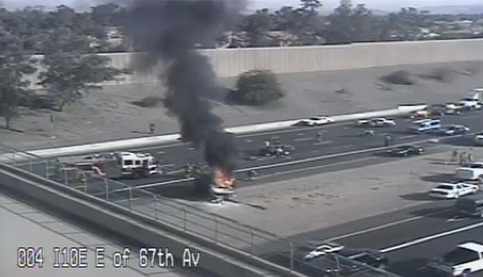 PHOENIX (CBS5) -
Westbound Interstate 10 between 59th and 67th avenues in Phoenix has reopened after a fiery car crash forced closures for several hours, according to the Arizona Department of Transportation.
The crash happened just before 10 a.m. involving a car traveling eastbound on I-10 that broke through the cable barrier, according to an Arizona Department of Public Safety spokesman.
The spokesman said the woman driver of a white Honda Civic swerved to avoid a car that had cut her off. She lost control and went through the barrier in the median and struck a westbound pickup truck head-on.
The driver and a 6-year-old child in the back seat had to be cut from the car, the spokesman said. The woman, who is not the child's mother, suffered life-threatening injuries while the child suffered a broken arm and was transported to Phoenix Children's Hospital.
The driver of the truck was also taken to the hospital as a precautionary measure, the spokesman said.
Stay with CBS5AZ.com and CBS 5 News for this developing story.
Copyright 2012 KPHO (Meredith Corporation). All rights reserved.