Tarantulas on the fly -- in thief's pants!
Posted:
Updated: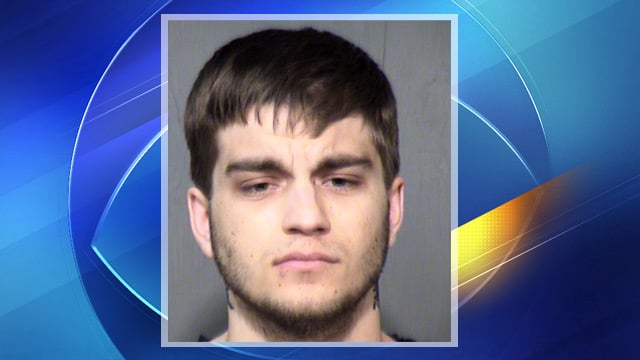 Adam Hartmann
TEMPE, AZ (CBS5) -
With several surveillance cameras perched around the shop, he knew he was being watched. That didn't stop a man from allegedly slipping two tarantulas into his pants.
Jared Ohsman of Reptiles & Reefs in Tempe said that's how some of his inventory allegedly snuck out the door. He wasn't surprised.

"The first time he came in, he gave me that feeling," recalls the store owner of a customer who came into his shop nearly every day.
Ohsman says high-dollar tarantulas had been missing before, and he was glad to finally capture something on tape. The suspect, he thinks, did not act alone.
"The family comes in all the time. You would not want to suspect them. They're friendly, they chat. But they utilize that to pull us away so he can take stuff," says Ohsman.
The alleged robber even filled out a job application as 20-year-old Adam Hartmann from Scottsdale.
With that information along with surveillance video, Ohsman called Tempe police. "They told me that he's considered armed and dangerous," he said.
Ohsman was told to call police when Hartmann came in again. CBS 5 News waited for two hours at the shop on Tuesday, but Hartmann never showed up.
When Ohsman checked Hartmann's Facebook page, he learned he was already caught in another web, arrested by Scottsdale police. His mother posted that he would be in jail for awhile.
"I'm happy he's in jail. It's where I wanted him to be. I'm not happy we didn't get to help put him there," said Ohsman upon hearing about Hartmann's arrest.
Scottsdale police tell CBS 5 that Hartmann was arrested on a parole violation, a weapons charge and drug charges, which had nothing to do with the Reptiles & Reefs robberies.
Ohsman says his losses total nearly a thousand dollars and he is hoping Tempe police follow up with the suspected spider thefts in hopes of getting his arachnids back.
Copyright 2012 KPHO (Meredith Corporation). All rights reserved.