Proposed bill would allow teachers to suspend students
Posted:
Updated: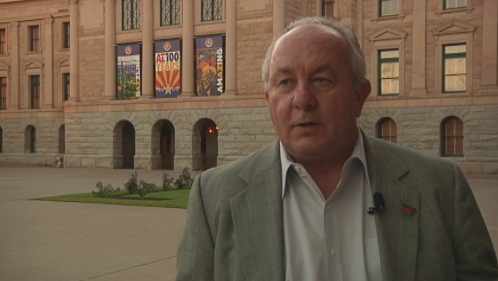 State Rep. John Fillmore
PHOENIX (CBS5) -
A proposed bill in the Arizona Legislature would change the rules when it comes to kicking students out of class.
House Bill 2011 would allow teachers the ability to suspend students.
"It's all because we have an administration, a vice principal or a principal who are not willing to do their job," said State Rep. John Fillmore, a Republican.

Fillmore said talking with teachers inspired his latest would-be law.
"So 2011 just allows a teacher to be the final authority on a suspension, not an expulsion," Fillmore explained.
The bill would let teachers -- not principals, not school boards, but teachers -- suspend students.
"(The law) says that she can control the classroom," Fillmore said.
Fillmore said right now kids think they can get away with anything, and letting teachers be the big boss would change that.
"Now some people have said, 'What about a teacher that's wayward?'" Fillmore asked.
What about those bully teachers, the ones our kids said just don't seem to like them, no matter what they do right?
"If we did have a teacher that was utilizing this authority in a bad way, that also enables it to rise to the top so the administration can recognize they have a problem in the teacher," Fillmore said.
By then, the kid has already been kicked out of class for a few days.
CBS 5 News also wanted to know about checks and balances.
"There are no checks and balances," Fillmore said.
"It's not good," one parent said.
Some think a little extra power in the classroom might not be a bad thing.
"You have to do what you have to do," another parent said.
Right now the bill is just waiting in the wings.
It needs to make it to committee and be approved before the House even considers passing it.
Copyright 2012 KPHO (Meredith Corporation). All rights reserved.