Scottsdale 'trophy home' with train, zip-line up for auction
Posted:
Updated: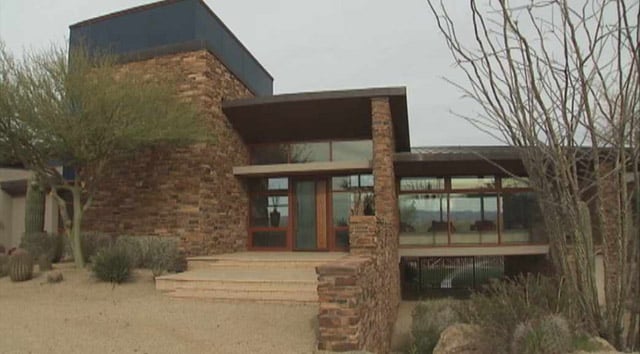 SCOTTSDALE, AZ (CBS5) -
"It's similar to a priceless Picasso, where there's only one," says Nate Schar of Grand Estates Auction Company about the north Scottsdale property going up on the auction block Feb. 7.
"This is definitely somebody's trophy home," he said.
And soon, it could be your trophy home.
For starters, the spectacular mansion is almost 15,000 square feet with eight bedrooms and 12 bathrooms.
"It's well built. It has that desert contemporary, it flows with the landscape," Schar said.
The Frank Lloyd Wright-inspired home was built in 2002 for $12 million out of steel, stone, and concrete. It's illuminated by lots of windows.
There are two gourmet kitchens with top-notch appliances, a 3,000-gallon aquarium built into a living room wall, an enclosed fresh-air dining room, and a multiple rain shower in the master bath.
Outside, there's a resort-style salt-water pool with the infinity edge, a grotto, a hot tub for 12 people, and waterfalls.
There are also unique features you probably wouldn't imagine.
It has a 4,700 square foot gymnasium with a basketball court, weight room and spa bathroom.
There's an observation deck with a telescope and giant binoculars to scope out the desert scene far beyond the 16-acre property.
A novel 1/16th scale Santa Fe freight train circles tracks around the property, and a 300-foot zip line runs across the park-like backyard.
The owner, William Gibbs, is the former president of the University of Phoenix.
"They've held some very large charity gatherings, parties and wedding receptions here at the property," said Schar.
The next big gathering will be to let the property go.
Several high-profile clients from all over the country are interested in placing their bid, when it goes up for auction Feb. 7.
The rare, absolute auction means there's no reserve. The fabulous home goes to the highest bidder.
Those interested in this fabulous home must show up with a $100,000 cashier's check. The winning bidder must be prepared to pay 10 percent down on the property, which will close in 30 days.
Copyright 2012 KPHO (Meredith Corporation). All rights reserved.