UPDATE
Peoria cop's Facebook photo draws Secret Service scrutiny
Posted:
Updated: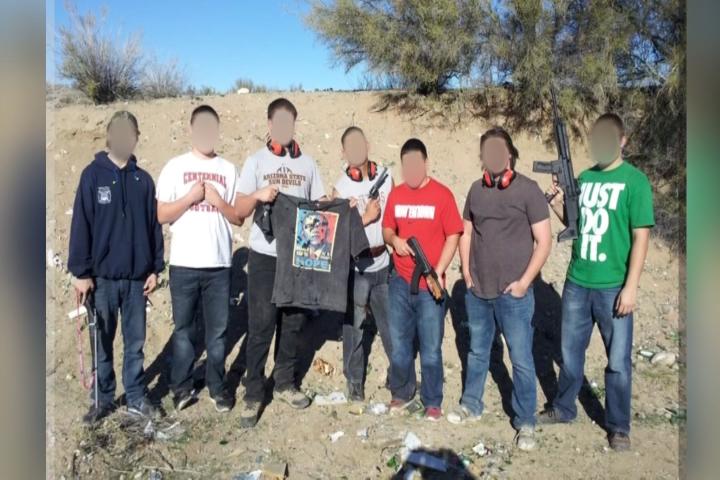 PEORIA, AZ (CBS5) -
The Secret Service is now investigating a picture of posted on a police officer's Facebook site and Peoria Police are investigating one of their own. This comes just one day after another memorable Arizona photograph went viral.
The investigation stems around a picture posted on the Facebook account of Peoria Police Sgt. Patrick Shearer showing several young men in the desert carrying guns and holding up a T-shirt with President Barack Obama's likeness on it that appears riddled with bullet holes.
The picture in question was actually posted on Facebook a week ago, but it wasn't until one day after the infamous photo of a finger-pointing from Arizona Gov. Jan Brewer at President Obama went viral that someone cried "foul" and the sergeant's photograph was removed.
"We received information about a possible policy violation today involving one of our employees," Peoria Police spokesman Jay Davies said Thursday. "We were contacted by the Secret Service."
The Secret Service confirms it has launched an investigation surrounding the picture, which was posted last week but was taken down Thursday. Peoria police say Shearer has been with the department at least 14 years and now is a patrol sergeant with the Northern Precinct.
"Any time a group expresses an unusual interest that may be of national security, the secret service would open an investigation," said Max Milien of the Secret Service in Washington. "We agree that individuals have the right to freedom of speech. we also have the right to speak to those individuals."
Milien said the Secret Service is conducting the appropriate follow-ups, but would not say more about the investigation.
"We have a social media policy that addresses employee conduct with respect of the use of social media," Davies said. While he added Shearer will remain on duty, Peoria police are conducting their own investigation to determine if he violated the social media policy. The policy says, in part, "posting information regarding off-duty activity that may tend to bring an officer's reputation into question is strongly discouraged."
"We seek to maintain a positive image and ensure that we're always holding our employees to that standard," Davies said. CBS 5 News unsuccessfully tried to contact Shearer by phone and visiting his home. His disciplinary history and list of commendations were not available for us Thursday night. If it is determined that an employee has violated the social media policy, discipline for that violation varies depending on the situation, Davies told us.
Copyright 2011 KPHO. All rights reserved.