Circle K uses Facebook to solve crimes
Posted:
Updated: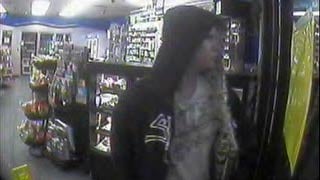 Courtesy of Silent Witness
PHOENIX (CBS5) -
Circle K's are no stranger to robberies, with people coming in armed, stealing money or beer. Now, they're appealing to a different audience to find the bad guys.
CBS 5 News obtained video of a holdup at the Circle K near 19th Avenue and Cactus Road.
The guy walks in and points a rifle right at the cashier. He grabs the cash and takes off.
It's just one example of a crime Circle K and Silent Witness would like to solve.
Circle K is doing more with those surveillance pictures than just turning them over to police.
"We post signs on our stores that let them know that if they obviously do something that isn't right, they might be on Facebook," said Circle K Loss Prevention Manager Carlos Estrada.
The chain created the "Circle K Crime Busters" Facebook page. It's got the pictures of dozens of crooks from our area. They're unsolved crimes Circle K hopes the social network savvy will help solve.
"Social network is definitely going to hit a different demographic, and it's just another unique way to help combat crime in Arizona," Estrada said.
Estrada said the page has generated thousands of tips and even solved nearly half a dozen crimes. It's only been up and running a few months.
"I think it's always a community that comes together to help deter crime, be the good witness, be aware of what's around them, what's happening, and I think all the folks in Arizona can help combat crime if they're given a conduit to do it," he said.
Check out the Facebook page here.
If you have any information on the crimes shown there, contact Silent Witness at 480-WITNESS or 800-343-TIPS.
Copyright 2012 KPHO (Meredith Corporation). All rights reserved.