UPDATE
Brewer: Obama 'disturbed' by my book
Posted:
Updated: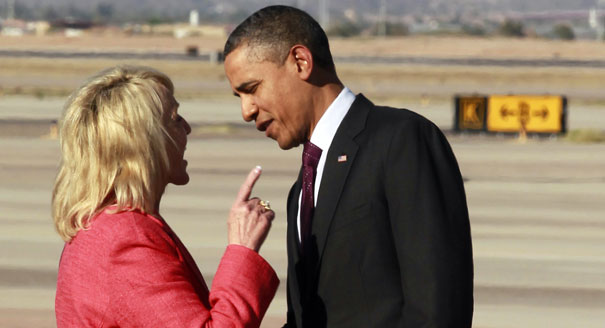 (Source: AP)
MESA, AZ (CBS5/AP) -
Arizona Gov. Jan Brewer came to greet President Barack Obama upon his arrival outside Phoenix Wednesday. What she got was a critique. Of her book.
The two leaders could be seen engaged in an intense conversation at the base of Air Force One's steps. Both could be seen smiling, but speaking at the same time, and Brewer shaking her finger at the president.
CBS 5 News caught up with the governor late Wednesday night and asked about the photo taken by the Associated Press where Brewer is pointing a finger when talking to the President. It quickly gained national attention, and sales for her book increased significantly on Amazon.com over the past 24 hours.
We asked what she was discussing in that moment.
"It's difficult to recall exactly because I've always been real animated in talking. We could have been talking about a million different things. Bottom line is that he generally wants to talk about amnesty and I want to talk about securing our border," replied Brewer. "I must say, I was not hostile. I was trying to be very, very gracious. I respect the office of the president, and I would never be disrespectful in that manner."
But asked just moments after the picture was taken what the conversation was about, Brewer, a Republican, said: "He was a little disturbed about my book."
Brewer recently published a book, Scorpions for Breakfast, something of a memoir of her years growing up and defends her signing of Arizona's controversial law cracking down on illegal immigrants, which Obama opposes.
Obama was objecting to Brewer's description of a meeting he and Brewer had at the White House, where she described Obama as lecturing her. In an interview in November Brewer described two tense meetings. The first took place before his commencement address at Arizona State University. "He did blow me off at ASU," she said in the television interview in November.
She also described meeting the president at the White House in 2010 to talk about immigration. "I felt a little bit like I was being lectured to, and I was a little kid in a classroom, if you will, and he was this wise professor and I was this little kid, and this little kid knows what the problem is and I felt minimized to say the least."
Brewer said their heated exchange Wednesday started on the tarmac with a handwritten letter she gave the president inviting him to come back to Arizona to have lunch with her and make a visit with her to the border.
She said that's when he started criticizing her on how she portrayed him in her recent book.
"I felt a little bit threatened, if you will, in the attitude that he had, because I was there to welcome him," she said.
The governor describes the final part of their exchange Wednesday as disrespectful towards her.
"I believe that when we were in the conversation, I was in the middle of a sentence and he walked away," Brewer said.
She said Obama complained that she described him in the book as not treating her cordially.
"I said that I was sorry that he felt that way. Anyway, we're glad he's here, and we'll regroup."
A White House official said Obama told her he would be glad to meet with her again. The official said Obama did note that after their last meeting, which the official described as a cordial discussion in the Oval Office, the governor inaccurately described the meeting in her book. The official spoke on condition of anonymity to describe a private conversation between the president and the governor.
Copyright 2012 KPHO (Meredith Corporation). All rights reserved. The Associated Press contributed to this report.