Toxic chemicals discovered in Phoenix neighborhood
Posted:
Updated: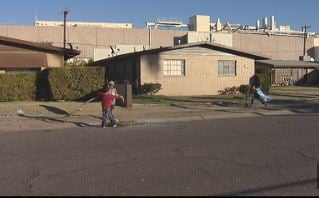 PHOENIX (CBS5) -
The Environmental Protection Agency has discovered toxic chemicals beneath the ground of a southeast Phoenix neighborhood, and testing indicates that the chemicals have seeped into at least 16 homes or apartments.
The EPA did soil vapor testing in the neighborhood directly west of the old Motorola plant at 52nd Street and McDowell Road.
That area was labeled a superfund site in 1989 because of the massive amount of industrial solvents that were dumped into the ground by the plant.
Test results detected levels of the chemical compound trichloroethylene, or TCE, as well tetrachloroethylene, or PCE, inside 16 homes or apartments at or above levels deemed safe.
The EPA said special ventilation systems will be installed in those homes or apartments.
"Why did we have to wait decades?" asked Steve Brittle, an environmental watchdog who says he started warning of the potential problem 20 years ago.
Brittle is the founder of Don't Waste Arizona Inc., and he believes the Arizona Department of Environmental Quality ignored the problem for years to protect Motorola, who would have had to pay millions for the cleanup.
"Here we are 20, 30 years later and we're finally doing the stuff that should have been done immediately," said Brittle. "People were put at risk, and there isn't any way around that."
Victor Parra said he and his family have lived in the area for nearly 30 years.
"I've had two family members die of cancer and that concerns me," said Parra, who can't say for sure if their cancer was caused by the toxic chemicals.
Neither state nor federal officials have ever conducted health studies in the area to determine if the chemicals may have increased cancer rates.
"Knowing that TCE is a carcinogen, it makes you wonder," said Brittle.
CBS 5 asked the Arizona DEQ why they never discovered the toxic chemicals that the EPA recently did, and they sent us a statement:
"The decision not to investigate 'vapor intrusion' at the Motorola 52 Street Superfund Site was made by a previous administration. The investigative work is now being conducted by the U.S. Environmental Protection Agency, in consultation with the Arizona Department of Environmental Quality. ADEQ will continue to keep abreast of EPA's mitigation efforts at the site as they relate to vapor intrusion. ADEQ also will continue to take the lead role for all other issues at the site."
The EPA will hold meeting to brief residents in the area of the study findings.
The meeting is scheduled for Feb. 15 from 6:15 p.m. to 8:15 p.m. at Brunson-Lee Elementary School.
In addition, the EPA will conduct soil vapor tests in adjacent neighborhoods this summer.
Copyright 2012 KPHO (Meredith Corporation). All rights reserved.