UPDATE
1 dead, Mesa police officer wounded in shootout
Posted:
Updated: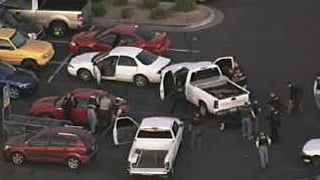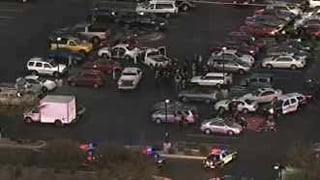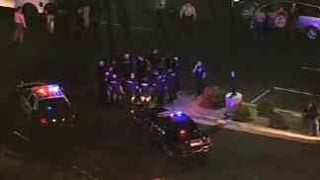 MESA, AZ (CBS5/AP) -
Authorities say one drug suspect was killed, another one injured and an undercover police officer wounded after a shootout in the parking lot of a Mesa supermarket Tuesday night.
The Mesa officer, whose name has not yet been released, is in stable condition.
The conditions of those injured weren't immediately released and neither were their names, gender, ages or hometowns.
Det. Steve Berry with the Mesa Police Department said two undercover cops were meeting some suspected drug dealers in the parking lot of a Fry's grocery store at the Ellsworth Plaza when the operation went terribly wrong.
"When those individuals came out of their car, they started firing at our officers," Berry said.
Police say the suspected drug dealers just started shooting. Officers aren't sure yet if the suspects knew their potential buyers were police.
Berry said they shot one of the officers in the leg, so his partner fired back.
"Two of those individuals from inside the car were struck by our officers and have been taken to local hospitals," Berry said.
The CBS 5 news helicopter was flying overhead when one of the police K-9s dragged one of the men out of the suspected drug dealer's car.
"The third suspect from inside the car did surrender himself and was taken into custody without any other incident," Berry said.
Police say there were five drug suspects total. One of them is dead, another is in the hospital and three are in police custody.
Officers are continuing their investigation.
Stay with KPHO.com and CBS 5 for more on this developing story.
Copyright 2012 KPHO (Meredith Corporation). All rights reserved. The Associated Press contributed to this report.