UPDATE
Giffords praised during emotional House resignation
Posted:
Updated: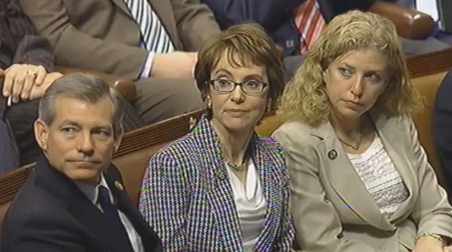 Gabrielle Giffords
WASHINGTON (CBS5/AP) -
Rep. Gabrielle Giffords has resigned from the House with a standing ovation from her colleagues, more than a year after she was gravely wounded by a would-be assassin.
The Arizona congresswoman formally resigned after a series of tributes from her colleagues. She's stepping down to focus on her recovery from a gunshot wound to the head.
As Giffords sat in the chamber's front row, lawmakers praised her dignity, grace and perseverance. Her mother, Gloria, and husband, retired Navy Capt. Mark Kelly, watched from the gallery. Giffords stood in the well of the House as her close friend, Rep. Debbie Wasserman Schultz, read her resignation letter. Other members of the Arizona delegation surrounded her and Rep. Jeff Flake held her hand. An emotional Wasserman Schultz said Giffords would return one day.
Giffords, who has represented southern Arizona in the House for five years, submitted her letters to House Speaker John Boehner and Arizona Gov. Jan Brewer. Her resignation will be effective at the end of the day on Wednesday.
In her letter, she promises, "I will recover and will return."
Giffords ends her resignation letter with the words: "Every day I am working hard. I will recover and will return and we will work together again for Arizona and for all Americans."
Democratic Leader Nancy Pelosi asked unanimous consent from her colleagues to speak out of order. Pelosi then discussed Giffords' career in the House.
Pelosi saluted Giffords and recognized her as "the brightest star among us, the brightest star congress has ever seen."
"She has brought the word 'dignity' to new heights by her courage," Pelosi said.
Giffords received a warm welcome Tuesday as well, from her colleagues and from President Barack Obama, when she attended the State of the Union Address.
Also on Tuesday, her office released a statement announcing she would hand her letter of resignation to Boehner and Arizona Gov. Jan Brewer. It goes into effect at the end of the day.
Republican Leader Eric Cantor also made some brief remarks about Giffords' service followed by Democratic Whip Steny Hoyer.
Then, an emotional Wasserman Schultz, Giffords' closest personal friend in the House, read the congresswoman's letter of resignation from the well of the House. Wasserman Schultz was joined by Giffords and a bipartisan group of Giffords' colleagues.
Giffords, with the help of Wasserman Schultz, submitted her letter of resignation to the speaker.
Giffords votes on smuggling bill
Giffords' final act in Congress was voting on a bill that imposes tougher penalties on smugglers who use small, low-flying aircrafts to avoid radar detection and bring drugs across the Mexican border.
The bill passed unanimously, 408-0.
The Democratic congresswoman introduced the legislation along with fellow Arizonan, Republican Jeff Flake. It's similar to a version that easily passed the House in 2010 but did not make it through the Senate.
Her office said the current law allows defendants who use ultra-light, single-seat planes to get a lesser penalty than those who use cars or other types of planes to smuggle drugs.
Every year, hundreds of ultralights are flown across the southern border and each can carry several hundred pounds of narcotics, her office staff said.
Ultralights - small, single-seat aircraft - are favored by smugglers because they are inexpensive, relatively quiet and can fly at night without lights. They often are able to evade radar detection and can drop a load of narcotics in the U.S. and return to Mexico without landing.
The legislation will:
Give law enforcement agencies additional tools to combat this type of drug trafficking by closing a loophole in current law that allows smugglers who use ultralights to receive a lesser penalty than those who use airplanes or cars
Establish the same penalties for trafficking, whether by plane, automobile or ultralight: up to 20 years in prison and a $250,000 fine
Add an attempt-and-conspiracy provision to the aviation smuggling law to allow prosecutors to charge people other than the pilot who are involved in aviation smuggling
Direct the Department of Defense and the Department of Homeland Security to collaborate in identifying equipment and technology used by the Defense Department that could be used by U.S. Customs and Border Protection to detect ultralights
Copyright 2012 KPHO (Meredith Corporation). All rights reserved. The Associated Press and Raycom News Network contributed to this story.