Chandler vice mayor's tweet: Obama's message is misleading
Posted:
Updated: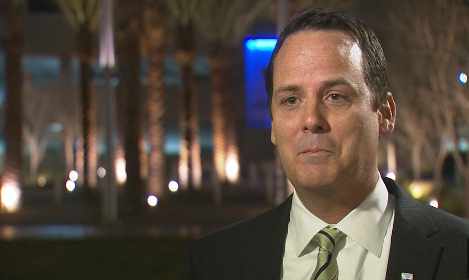 Chandler Vice Mayor Jeff Weninger
CHANDLER, AZ (CBS5) -
Chandler Vice Mayor Jeff Weninger says he's happy to welcome President Barack Obama and his staff on Wednesday. He's not as excited about part of the president's anticipated message.
"I'm just using my gift of free speech to say it's not true," says Weninger.
That is free speech, taking form on twitter.

This afternoon he tweeted, "So @BarackObama is coming 2 @intel in chandler on Wed 2 take credit 4 a 1000 new #jobs & a 5 billion $ investment that he had 0% to do with."
Weninger is referring to Obama's visit to the massive Intel Corporation facility, where a new, $5 billion project is in the works. It's set to be the most advanced, high volume chip-making plant in the world.

The three-year project is expected to bring in about a thousand high-paying jobs and will employ nearly 3,000 construction workers.
In Obama's national address Tuesday night, economic development will likely be the focus.
Chandler's vice mayor believes the president will tout Intel's enormous growth as proof his policies are working.
"For somebody to come in right at the last second, right after the State of the Union, and probably going to have the cranes in the background taking your picture, it just kind of does a disservice to all the people like our staffers who worked so hard, for somebody to take credit for it, who hasn't had really anything to do with it," says Weninger.
Weninger says the primary credit goes to the workers and management of Intel and the thousand plus hours the City of Chandler staff has logged in to make this project happen.
He also credits the people of Chandler for supporting such a massive corporation and the state legislature for lowering Arizona's corporate tax rate a couple years back.
"I'm in the restaurant business. I'm not an engineer at Intel, but it doesn't take an engineer to figure out what's going on," said Weninger of the president using the backdrop of Intel's success as an example of his own.

Copyright 2012 KPHO (Meredith Corporation). All rights reserved.