Giffords makes last Tucson appearance as congresswoman
Posted:
Updated: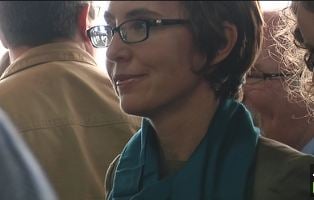 TUCSON, AZ (CBS5) -
It was a powerful and emotional last chapter for her role as congresswoman when on Monday Gabrielle Giffords took the symbolic step of completing the "Congress on Your Corner" gathering that was interrupted last January.
In the months since she and so many others were gunned down, she's made amazing progress, but this weekend Giffords announced she's stepping down from office to focus on recovery.
She met privately with the same people who came out to that Safeway a year ago to meet her that January morning.
"It was so great this morning to see Gabby, the Congresswoman Giffords," said retired Colonel Bill Badger. "To see her and see how well she is doing, you know, my prayers have been answered."

Badger has been called a hero for his actions the morning of the shooting as he tackled the gunman.
And Patricia Maisch grabbed an extra gun magazine of bullets, which kept suspect Jared Laughner from reloading his weapon.
"Seeing Gabby and the progress she has made is very hopeful and very encouraging to see how hard she has worked to get where she is," Maisch said.
But an eager crowd waited to see their "Gabby" at a public appearance around lunch time Monday.
The congresswoman walked right into the Gabriel Giffords Family Assistance Center housed in the Community Food Bank of Southern Arizona.
With a big smile, she was greeted by a row of media cameras and a big crowd of supporters.
"I was just thrilled to see her walking so well on her own," Betty Evans said. "And she's really glowing."
Most people are saying that Giffords stepping down was a selfless act and a decision that makes room from another leader to step in and allows time for Giffords to focus on her recovery.
"You know I've seen her on TV, but it was just such a relief to see that she is doing so well, and I can't wait to see what the next chapter of her life is going to be," Marry Quinones said.
In Giffords' own words from her resignation video she posted on Facebook, she said, "I will return, and we will work together for Arizona and this great country."
But just when and how Giffords will do that is not clear, as the primary focus is now directed at her recovery.
Copyright 2012 KPHO (Meredith Corporation). All rights reserved.