Some call for repeal of SB 1070, others show full support
Posted:
Updated: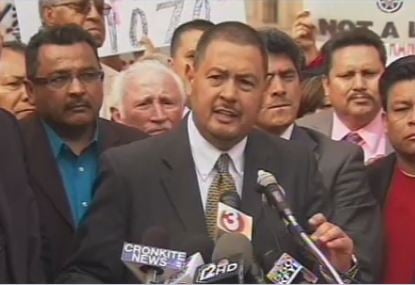 PHOENIX (CBS5) -
SB 1070 might be considered Arizona's most controversial law to date.
Today, State Sen. Steve Gallardo announced a bill to repeal the immigration enforcement law.
Democratic legislators gathered with Gallardo on the Senate lawn this morning.
During a news conference, the senator said SB 1070 has done damage to the state.
"You look over the last couple years the impact Senate Bill 1070 has had on the state of Arizona. The negative image it's brought to the state of Arizona. The actual division that has come out here to the state capitol," said Gallardo.
Republican lawmakers held their own rally to reiterate their support for the law.
They said Gallardo's proposal will go nowhere in the legislature.
SB 1070 made it a state crime to be in the country illegally and gave power to local police to question the immigration status of anyone they stop.
It also made it illegal to transport an illegal immigrant anywhere in the state.
Copyright 2012 KPHO (Meredith Corporation). All rights reserved.