UPDATE
Suspect critical after shot by officers
Posted:
Updated: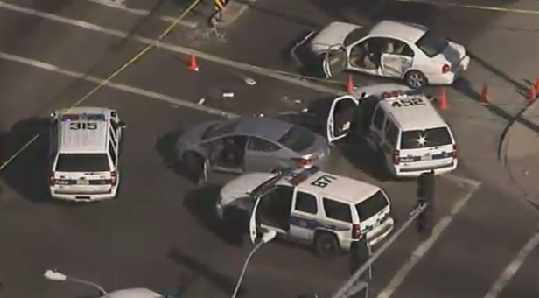 PHOENIX (CBS5) -
A suspect who was shot after allegedly pulling a gun on Phoenix police officers Wednesday remains in critical condition.
The man, described as Hispanic, was in his mid to late 20s. His identity is still being determined, police said.
The suspect is facing charges in Phoenix and Glendale, including several counts of aggravated assault on a police officer.
Authorities say the man was driving westbound on Peoria and 39th Avenue when he saw officers and took off, running several red lights.
Police tell CBS 5 the suspect pointed a gun at officers while driving. The suspect made it to 59th Avenue and Cactus in Glendale and stopped in the Circle K parking lot.
The suspect reportedly flashed his gun at officers but never fired.
"We believe if he's willing to pull out a weapon and point it toward police and drive erratically without regard to public safety, then we have got to do our best to get this guy stopped," said Officer James Holmes with the Phoenix Police Department.
Three officers shot at the suspect. On Thursday, Glendale police released a statement identifying those personnel as Sgt. Bill Gatlin, Officer Jeff Anders and Officer Alex Crabbs.
Copyright 2012 KPHO (Meredith Corporation). All rights reserved.