Red light crashes posted on YouTube
Posted:
Updated: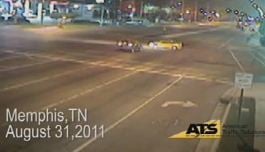 PHOENIX (CBS5) -
One Valley-based company is trying to slow down the amount of accidents related to running red lights.
American Traffic Solutions is one of the nation's leading providers of road safety cameras with nearly 3,000 in the United States.
"Each year more than a hundred thousand people nationwide are killed or injured in red light running-related crashes," said Vice President of communications Charles Territo.
It's the kind of video that just makes you cringe; the nationwide company shows video after video of intersection crashes from states like New Jersey and Tennessee that are all posted on YouTube.
"I think it will make people think twice when they come to an intersection," Territo said.
And if you do think twice, it's mission accomplished for Territo who believes, "More often than not, people come across a crash at an intersection and may see that a crash has taken place but never see how violent and how deadly those crashes really are."
At the end of 2011, the company posted a video montage compiling crashes from different states and posted them on YouTube.
Territo believes by posting the videos for the public to see, more drivers will be more willing to hit the brakes at the next red light and save more lives.
It's not just drivers in different states either, the company works closely with Valley towns like Mesa and Scottsdale and also has cameras in Pima County and Tucson.
"There's nothing more heartbreaking than having to talk to a mother who's lost a child or a wife who's lost a husband in a red light running collision that was completely preventable," Territo said.
The company has two locations, one in Scottsdale and the other in Tempe. At the Tempe location, Territo said approximately 500 employees reviewed nearly 17 million events that the cameras captured last year.
Territo said that of those 17 million, about 3 million violations were issued for either red light running or speeding.
According to the National Highway Traffic Safety Administration, there were 651 people who died as a result of intersection-related fatalities in the nation.
There were 25 deaths in Arizona, down by 34 percent from 2009.
Copyright 2012 KPHO. All rights reserved.