Saguaro football coach fired, team upset
Posted:
Updated: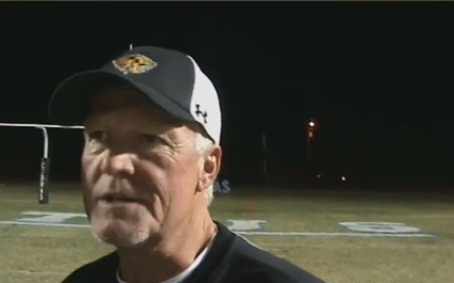 John Sanders
SCOTTSDALE, AZ (CBS5) -
Saguaro High School's football coach led the team to a state championship this season, but it may have been a regular season game that cost him his job.
The high school fired John Sanders on Thursday, just weeks after he led Saguaro to its fourth state title in five years on the football field.
It came as a shock to some that Sanders was fired. Players rallied for their coach Thursday night.
But others said it was because Sanders didn't play his star players in a loss to rival Chaparral in the regular season finale.
Saguaro High, led by Principal Brian Corte, had a meeting for players and parents of the football team Thursday night to answer questions of the firing.
But a lot of Sanders supporters who were there said they didn't get any answers.
Saguaro High and the Scottsdale Unified School District issued a statement that read, in part:
After careful consideration, the administration of Saguaro High School, with the support of the Scottsdale Unified School District (SUSD), has determined that the Saguaro football program will move into 2012 and beyond under new leadership. Coach John Sanders will no longer be the head football coach effective January 5, 2012. We thank Coach Sanders for his dedication and commitment to the Saguaro Football Program and appreciate his years of service and contributions.
The release said the vacant position will be posted for internal and external candidates beginning Jan. 9 and lasting through Jan. 20.
Copyright 2012 KPHO. All rights reserved.