Feds say Phoenix PD retaliated against kidnapping stats whistleblower
Posted:
Updated: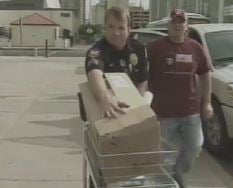 PHOENIX (CBS5) -
CBS 5 News was there from the beginning when Phoenix police Sgt. Phil Roberts was transferred out of his specialized robbery unit at police headquarters and headed for the department equivalent of the dog house.
Then, not long after Roberts wrote an August 2010 memo accusing the department of hyping kidnapping statistics, Roberts was placed under administrative investigation.
The Office of the Inspector General now says that was retaliation, and it was wrong.
"Any government agency must always turn square corners every day and in every way," said Fred Petti, a Phoenix attorney who used to work as an assistant U.S. attorney. "It's always the cover-up rather than the action that causes the problem."
The OIG report did not sustain all of the retaliation allegations made by Roberts, in part because they determined Roberts did not qualify for whistleblower protection until he wrote his 2010 memo.
Phoenix PD said they had reviewed the OIG report but only released a short statement, saying, "The Phoenix Police Department has reviewed the OIG's report on this matter and concurs with the OIG findings that personnel actions were not taken in retaliation, and that no demotion, dismissal or other discrimination had taken place in response to any protected disclosure."
A second OIG report regarding whether Phoenix PD inflated kidnapping statistics in order to obtain $1.7 million in federal grants is due back later this month.
Copyright 2012 KPHO. All rights reserved.