UPDATE
McCormick & Schmick restaurants suddenly close in AZ
Posted:
Updated: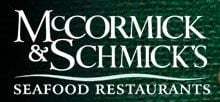 PHOENIX (CBS5) -
Employees at McCormick & Schmick's Seafood Restaurants in Arizona got a big surprise when they showed up to work - the restaurants had closed.
One employee who did not want to be identified told CBS 5 News she was met at the door by managers who told her to go home earlier this month.
"It was the strangest thing that's ever happened to me," she said. "It's a good thing I have another job."
There were two McCormick & Schmick's locations in Arizona - one at the Camelback Esplanade in Phoenix and the other at the Shops Gainey Village bordering Scottsdale. Both are now closed. The chain had more than 80 restaurants across the country.

CBS 5 News confirmed that the restaurant company was recently bought by the Landry's chain, which operates other seafood restaurants nationwide.
Kris Guthrie, Vice President of Marketing for Landry's, released the following statement in regards to the closure:
"It was a strategic corporate decision to close these locations, and we are assessing the market for new opportunities to grow our brand.
"Many employees have received opportunities to relocate to other Landry's concepts, including Claim Jumper, located at 3063 W. Agua Fria Freeway in Phoenix, and the Chart House in Scottsdale, located at 7255 McCormick Parkway.

"A handful of other McCormick and Schmick's will be closed for a variety of reasons, including lease expirations, market conditions, etc."
Neither Guthrie nor anyone from the company's public relations agency would disclose how many restaurants were closed or why employees were taken by surprise.
If you have a McCormick & Schmick's gift card, Landry's said they will accept them, or you can get a cash refund by contacting the corporate office at 713-850-1010.
Copyright 2012 KPHO (Meredith Corporation). Allrights reserved.