Stanton sworn in as Phoenix mayor
Posted:
Updated: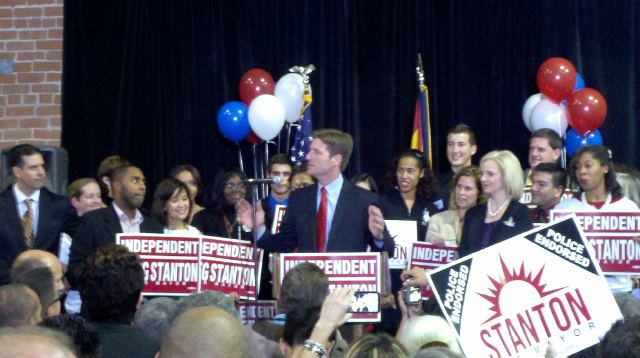 Greg Stanton
PHOENIX (CBS5/AP) -
The City of Phoenix swore in new mayor Greg Stanton on Tuesday morning. Stanton becomes the 52nd mayor of Phoenix, taking over for Phil Gordon.
In his address, Stanton spoke about creating more transparency in government and more accessibility for the general public. But he also announced a new collaboration with the Mayo Clinic in north Phoenix.
"It involves taking a lead on bioscience in other parts of the city. We have to partner with the incredible institutions that are here," Stanton said early Tuesday.
"There are some that have not been given as much support from the city as possible," he said. "If we're going to create the jobs of the future, we need to partner with those institutions that have highway jobs, medical education, bioscience."
The Desert Ridge Bio Science and Technology collaborative will fully develop the 400 acre facility and, according to Stanton, will create 50,000 jobs.
Stanton also announced a "mayors' futures forum" where Stanton, along with mayors in Mesa, Flagstaff and Tucson will share a bully pulpit to hopefully bring more support to Arizona students and schools.
Also taking the oath of office Tuesday morning are District 5 Councilman-elect Daniel Valenzuela, who replaces term-limited Councilman Claude Mattox, and re-elected Council members Bill Gates, Michael Nowakowski and Thelda Williams.
Copyright 2012 KPHO. All rights reserved. The Associated Press contributed to this report.