CPS overhaul report unveiled
Posted:
Updated: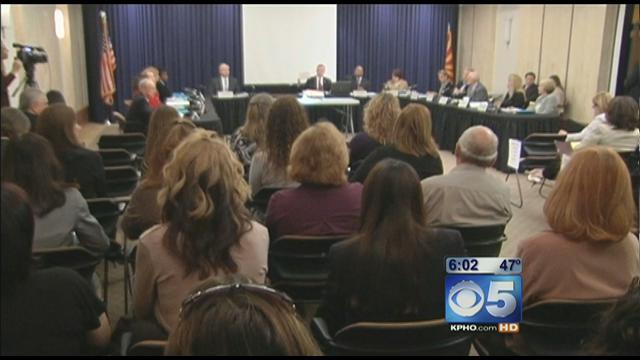 PHOENIX (CBS5) -
Gov. Jan Brewer now has the report in her hands from the Arizona Child Safety Task Force on proposed changes to the state Child Protective Services.
The governor required that this task force made of members of law enforcement, the child protection system and the public create recommendations to better protect the children of Arizona by the end of this month.
Friday, they laid out the changes, many of them calling for better training and cooperation among agencies.
The director over CPS, who also served on the task force, said the call to improve the child abuse hotline is his top priority.

"Ensuring that they have effective access to that system and that we get the call right when it comes in. It can't be right downstream unless it starts right," said Clarence Carter, the director of the Department of Economic Security.
The task force also called for a new investigation team that would include former detectives who can focus on evidence as much as child welfare.

"Those are not competing priorities, they are complementary, and therefore you need to vary different orientations, so one of the recommendations is creating this investigative unit," said Carter.
The recommendations also included new legislation that would give CPS workers the power to see a child even if a parent says no.

"There is no legal requirement for them to make the child available," Carter said. "How can we do the job of determining if the child is safe if we can not put eyes on the child?"
The recommendations also include increasing involvement from law enforcement, cross training between agencies, and sharing of information.

"It has to be the CPS worker, with the law enforcement officer, with the prosecutor with the medical professional, all of those have to come together for the system to function well," said Carter.
CBS 5 contacted the governor's office today to get her reaction to the recommendations. They say they will spend a considerable amount of time reviewing the report and then decide what can be done now.
"She will be studying these and see what things she wants to pursue and what elements are going to require legislative action as well," said Matthew Benson, spokesman for the governor's office.
Stay with KPHO.com and CBS 5 for more on this developing story.
Copyright 2011 KPHO. All rights reserved.