Mesa woman wants a heart for Christmas
Posted:
Updated: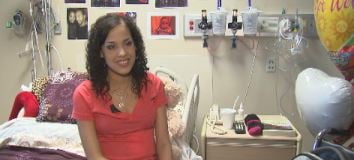 SCOTTSDALE, AZ (CBS5) -
Most girls Mia Welch's age would be asking for new clothes for Christmas, or maybe an iPad.
"Just waiting. Could be a good Christmas present," Welch said.
Her wish list is short, and something no 21-year-old should need.
"A new heart. I never thought I'd be asking for that, ever. But things change," Welch said.
Change might be her word of the year.
Let us explain. First, if you spend time in Welch's hospital room, you'll hear a constant thump thump noise. She relies on that thumping sound to know she's still kicking. It comes out of a little box that contains her temporary heart.
"It's pushing air all the way up into my heart and pumping it, just like a regular heart pumps," she explained.
It's shocking to see a seemingly healthy young woman describing such an awful condition.
"Congestive heart failure," Welch said.
The dancer was unable to breathe and went in for some testing.
When she woke up...
"So it was just completely, completely gone," she said.
A funny looking contraption now sits inside Welch's chest.
It does the work her own heart couldn't.
"I feel so much better," Welch said.
She noticed the change right away. Her doctors at the Mayo Clinic started her on a whopping machine called Big Blue.
"It was like 420 pounds," Welch said.
Just a few days ago, Welch traded up to the more mobile version.
"I went from a washing machine to a toaster," she joked.
"I've been walking up the stairs for the first time. With a 15 pound bag on my back. So it's not too easy but I did it! I did two flights today," Welch boasted.
And she's dancing again.
She'll be spending Christmas inside Mayo Clinic's hospital.
"I'm going to be here until I get a heart," she said.
Welch manages to stay positive, showing us it doesn't take one beating in your chest to prove you've got a big heart.
Mayo Clinic is one of two hospitals in Arizona that has this technology. So far, they've done 28 surgeries like Welch's.
Right now, she's at the top of the donor list, hoping to share a very different story with us next Christmas.
Copyright 2011 KPHO. All rights reserved.