Dirty Dining, Dec. 22: 8 violations top this week's list
Posted:
Updated: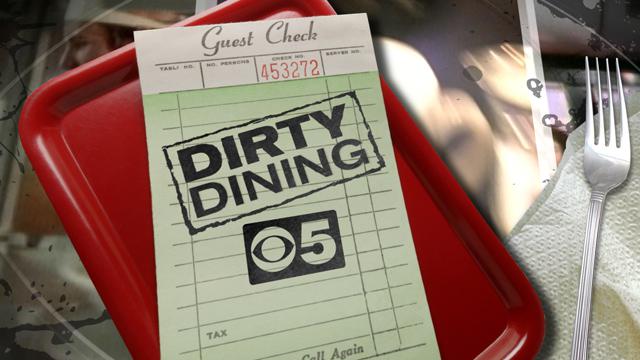 Every week, CBS 5 News is sent a list of restaurants that have been recently inspected by Maricopa County's Environmental Services Department. CBS 5 News selects five restaurants with some of the highest number of "Risk Factors."
According to health inspectors, risk factors are considered major health code violations. For more details on the restaurant inspection scoring system, visit http://www.maricopa.gov/.
East Asian Bistro
3145 N. Dysart Road
Avondale
5 major violations
Rico Mini-Mart
1224 N. Gilbert Road
Mesa
5 major violations
Dori's Bakery
1305 W. Guadalupe Road
Mesa
5 major violations
Supercarniceria Las 4 Milpas
6639 W. McDowell Road
Phoenix
7 major violations
Rock Taco
3111 W. Chandler Blvd.
Chandler
8 major violations
Dean's List – Those with perfect scores
Tarbell's
3213 E. Camelback Road
Phoenix
Submarino's
5124 W. Northern Ave.
Glendale
Woodshed
19 W. Baseline Road
Tempe
Red Devil Italian Restaurant
3004 E. Bell Road
Phoenix
Pane E Vino Ristorante
8900 E. Pinnacle Peak Road
Scottsdale
Jamba Juice
2095 N. Alma School Road
Chandler
Copyright 2011 KPHO. All rights reserved.