Pay It Forward: Stolen pony returned to owner
Posted:
Updated: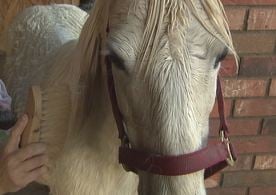 QUEEN CREEK, AZ (CBS5) -
It was the kind of wet week in Arizona that a pony like Pixie lives for.

"In the summer, she will splash the water out of her bucket to make a mud puddle and roll in it," said Siiri Cole, Pixie's owner.

Now, Cole is busy brushing Pixie, trying to restore that shiny white coat of fur for the camera.

Pixie certainly deserves a little extra attention. After all, the past month has been quite the ride.

"I came out to feed and I saw that her gate was open, and I was panic stricken," said Cole.

Cole said someone stole Pixie from her barn in Queen Creek.

Cole spent nearly two weeks posting flyers on line and around the area, but was starting to worry that Pixie was gone for good.

"They enjoyed her and Pixie was really good with them, she was absolutely amazing," said Ashley Aranda.

Aranda bought the pony for her kids, including 7-year-old Madison, who was still recovering after nearly being electrocuted earlier in the year.
"The doctors said we almost lost her," said an emotional Aranda, who never knew that the pony they called Princesa was stolen until a friend saw one of the flyers.

"Once I saw her name I went out and called her by her name and she came straight back. I called Siiri right after," said Aranda.

"They never asked for anything, she just said that she knew it was the right thing to do to call," said Cole.

Cole saw how hard it was for Aranda's kids to give up the pony, and with the hopes that the family could buy another, she emailed CBS 5 and nominated Aranda for our Pay It Forward segment.

We surprised Aranda with the $500 reward.

Sometimes the right thing to do, isn't the easy thing to do.

Ashley Aranda unknowingly bought a stolen pony, and had to break her kids' hearts in order for them to learn the difference between the two.
Copyright 2011 KPHO. All rights reserved.