Latino community praises DOJ investigation
Posted:
Updated: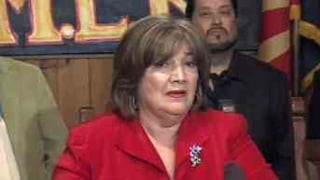 Mary Rose Wilcox
PHOENIX (CBS5) -
Many leaders in the Latino community gathered to celebrate Thursday's Department of Justice announcement, saying their complaints were finally heard.
"The Latino community deserves this to have people finally realize and finally put in writing the injustices that have been done to the Latino community," said Mary Rose Wilcox, a Maricopa County Supervisor.
Wilcox stood alongside Latino leaders praising the DOJ for their findings and calling for the end of Joe Arpaio as sheriff.

"This sheriff has done more to damage the state of Arizona than any other elected official his reign of terror in the Latino community must come to an end," said State Senator Steve Gallardo (District 13-D).

While political leaders called for the sheriff's office to go into receivership and the federal government to take it over, community leaders pointed out the harm they said has already done.

"When I ask domestic violence victims 'Why didn't you call the sheriff's department when something bad was happening?' the reason they say is 'Why? They are not going to do anything why am I going to call them they are not going to help me.' And that is the distrust that we have in our community," said David Adame, of Chicanos Por La Causa.
A wall of distrust between the Latino community and the sheriff's department is discussed in the report and one of the first things leaders hope to overcome. However, to do that they said the sheriff's office must have new leadership.

"I think what it needs is a good professional law enforcement officer who will look at law and order and public safety and not look at the next sound bite," Wilcox said.
Copyright 2011 KPHO. All rights reserved.