UPDATE
'Sad day for America,' Arpaio says of DOJ report
Posted:
Updated: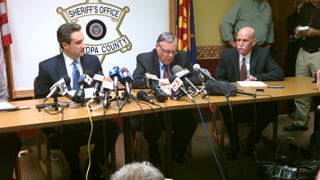 Sheriff Arpaio responds to DOJ report
Maricopa County Sheriff Joe Arpaio says a scathing U.S. Justice Department report about his office's law enforcement tactics marks what he calls "a sad day for America as a whole."
The Justice Department on Thursday found that Maricopa County Sheriff Joe Arpaio's office has committed a wide range of civil rights violations against Latinos, including a pattern of racial profiling and discrimination and carrying out heavy-handed immigration patrols based on racially charged citizen complaints.
"Today, the federal government moved to do everything it can to put this agency out of the illegal immigration enforcement business," Arpaio said.
At a news conference, a defiant Arpaio said the government's move will result in releases from jail of illegal immigrants who had previously been arrested for crimes.
"President Obama and a band of his merry men might as well erect their own pink neon sign at the U.S./Mexico border that says, 'Welcome all illegals to your United States. Our home is your home,'" Arpaio said at the news briefing.
The Justice Department said it conducted interviews with more than 400 individuals, including 75 current and former MCSO supervisors and deputies, Arpaio and 150 former and current MCSO inmates. In addition, the department said it reviewed thousands of pages of documents.
The department said it will try to obtain a court enforceable agreement and will attempt to work with MCSO and Maricopa County officials to develop and implement a comprehensive reform plan with the judicial oversight needed to address the violations of the Constitution and federal law.
Copyright 2011 KPHO. All rights reserved. The Associated Press contributed to this report.