Young homeless veterans on rise in Arizona
Posted:
Updated: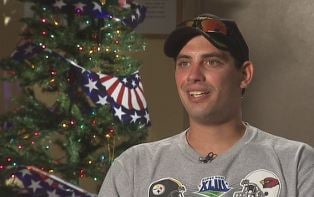 PHOENIX (CBS5) -
When you think of a soldier returning from war, you probably imagine a glorious homecoming with friends and family there. But that's not always the case.
According to the Arizona Coalition to End Homelessness, more and more young soldiers are coming back to no home at all.
The lucky ones get to be in some type of transitional housing, like 23-year-old Jeremy Ernster. He served for 2 1/2 years, one year of that in Iraq.
Ernster said at 18, he decided to join the Army and is proud of his service.
"I feel like there is a certain part of the population that go and do that job and certain people who don't and I feel like I was one of the those people and it was just on my heart," he said.
Ernster came back to Phoenix a few years ago and calls the MANA (Marines, Army, Navy and Air Force) house home, and other veterans who live at the transitional facility are his new family members.
"We are seeing a large increase of veterans living on the streets," said Joan Serviss, Executive Director of the Arizona Coalition to end Homelessness. She said Jeremy is not alone. A recent survey her organization conducted shows that homeless veterans on the street are getting younger and younger.
"It's a significant increase. When you go from 3.2 percent to 7 percent in one year you see that there is something that needs to be addressed," Serviss said it's a sign of the economy. "Our veterans are returning from overseas and there's no housing for them and there's no jobs for them."
For now, Jeremy is keeping his hopes up. "It has been a struggle, and it has been a fight," he said.
He said he's trying to get his piece of the American dream. "You can't stop. You can't stop. Your heart keeps going so you've got to keep going forward. You've got to want the best for your life," Ernster said.
Serviss said there are places for these young vets to go, but she said another problem in addition to the economy is connecting the soldiers to the programs offered.
If you would like to make a monetary donation to help do that, visit the website for the Arizona Coalition to End Homelessness at www.azceh.org.
Copyright 2011 KPHO. All rights reserved.