UPDATE
Showers, fog linger as storm exits Arizona
Posted:
Updated: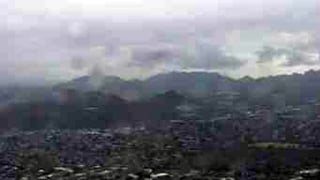 CBS 5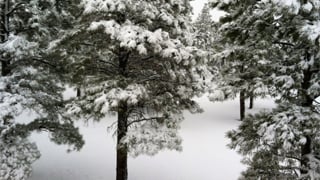 Courtesy: John and Vicki Pierce in Nutrioso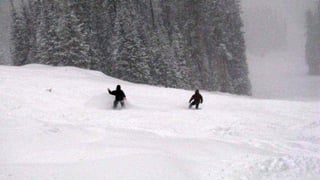 Sunrise Park Resort in Greer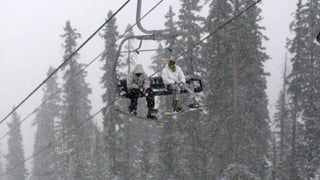 Sunrise Park Resort in Greer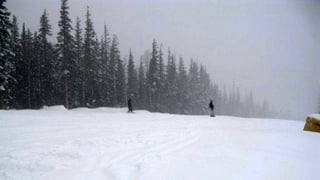 Sunrise Park Resort in Greer
A low-pressure system is leaving fog and some lingering showers behind as it exits Arizona.
The state's high country will continue to reap the benefits of the storm as an additional 2 to 5 inches of snow is expected Wednesday.
But there were some dangerous conditions existing. Fog was prevalent in the Valley after early morning showers fell. Skies were expected to clear late Wednesday morning and sunshine should break through for the afternoon.
There was also some road flooding reported, including Northern Avenue between El Mirage Road and 112th Avenue.
Another storm system is expected to bring more rain on Saturday, according to the National Weather Service.
A winter storm warning issued by the National Weather Service continued across Arizona until early Wednesday morning. Hazardous driving conditions existed.
CBS 5 meteorologist Steve Garry said most forecast models projected up to another inch of rain by Tuesday night. A thunderstorm is possible Tuesday, as well, he said.
Valley rain triggered a road closure. Northern Avenue is closed west of 112th Avenue as a result of flooding at a wash crossing just west of Peoria city limits, police said.
Garry said the storm system should move out of the state Wednesday, but another, weaker system lurks in the shadows for the weekend.
Officials were warning people to postpone plans to travel to northern Arizona early this week, because a forecast calls for strong winds, heavy snow and cold temperatures that will cause hazardous driving conditions.
Rain continued across the Valley early Tuesday morning and snow was falling in the high country this morning from a potent Pacific storm that moved into Arizona on Monday.
Interstates 17 and I-40 in the north were icy and Arizona Department of Transportation officials were urging motorists to drive with caution. Chains were being required at some points in the highest elevations.
Sunrise Park Resort reported more than a foot of snow had fallen through Tuesday morning.
Officials in Flagstaff and Show Low were waiting to see what the weather brings overnight Monday before making any decisions on whether city employees would come in late or not at all. Snow was falling lightly but steadily in Flagstaff on Monday afternoon but was expected to intensify through Tuesday evening.
The storm also comes as thousands of students are scheduled to take final exams at Northern Arizona University. Winter weather has affected test-taking before, but the university said classes will be held as usual on Tuesday and students will be able to take their final exams.
Bauer said essential maintenance workers, such as those who clear sidewalks, who live out of town could be put up in nearby hotels to make sure students living on campus can get around.
Other students in will enjoy a snow day as the Flagstaff Unified School District canceled classes for the day.
The state Department of Public Safety said it will make as many officers as possible available to respond to emergency calls on the roadways. Closures typically are triggered by icy, snowy conditions that lead to spinouts and crashes.
Clouds covered the Valley of the Sun and rain was being recorded from Buckeye to the west to beyond Apache Junction in the east, and from Black Canyon City in the north well beyond Sacaton to the south.
Crews from the Flagstaff Ranger District have been posting barricades and swinging gates on forest roads. Most of those roads in the Flagstaff area will be closed by mid-week.
Click here for road status lists for all three districts on the Coconino National Forest.
As of 5:30 Tuesday morning, more than 1 inch of rain had fallen at South Mountain Park and in Queen Creek, and a half-inch or more of rain in Chandler, North Phoenix, Scottsdale and Paradise Valley. Black Canyon City reported 1.89 inches of precipitation.
Snow levels run around 5,500 to 6,000 feet across Northern and Eastern Arizona where a Winter Weather Watch was in effect. Higher elevations could see 8 to more than 16 inches of snow by Wednesday morning.
Signs along I-40 from the California border past Flagstaff and on Interstate 17 from Phoenix to Flagstaff already are warning of winter driving conditions. Transportation officials said they can't emphasize enough that drivers need to slow down to prevent crashes on the roadways.
Being this system originated over the Pacific as opposed to Canada, temperatures in the Valley won't be nearly as cold as they were last week.
This disturbance will slowly exit from west to east on Wednesday and yet another system may bring more rain chances by the end of the week.
Stay with CBS 5 News and KPHO.com for late-breaking updates as the storm moves in.
Copyright 2011 KPHO. All rights reserved. The Associated Press contributed to this report.