'30 Rock' star booted from flight for playing game
Posted:
Updated: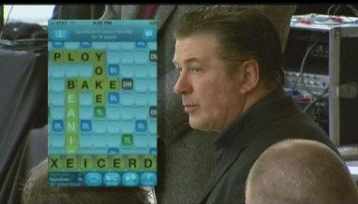 Alex Baldwin / CBS News
Alec Baldwin says he was kicked off a plane Tuesday at Los Angeles International Airport after having words with a flight attendant over a game he was playing on his cell phone.
Baldwin's spokesman, Matthew Hiltzik, says The 30 Rock actor was asked to get off a New York City-bound flight for playing Words with Friends while the plane idled at a gate.
Baldwin, a prolific Twitter user, took to the social media site to vent, saying a "flight attendant on American reamed me out 4 playing Words With Friends while we sat at the gate, not moving."
It wasn't clear if passengers had been asked to turn off their cell phones, which is typical before a flight backs away from the terminal.
American Airlines spokesman, Ed Martelle, declined comment, citing customer privacy concerns.
Many passengers on the flight who were interviewed in New York by CBS News called Baldwin "rude" and "selfish" for the way he handled the situation.
Airport police Sgt. Belinda Nettles says officers did not respond to the incident.
Copyright 2011 CBS News and KPHO. All rights reserved.