UPDATE
Firefighters to let transformer fire burn itself out
Posted:
Updated: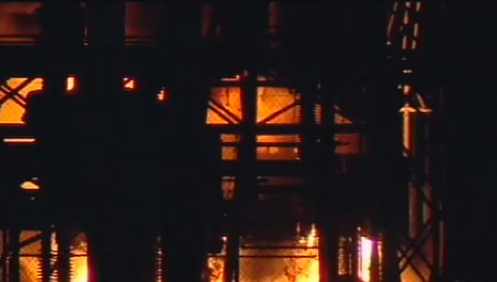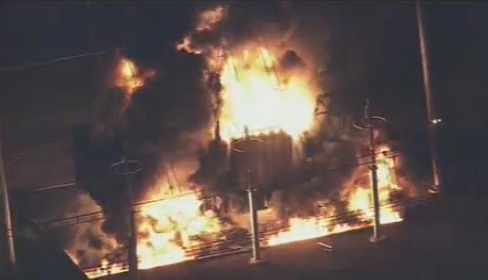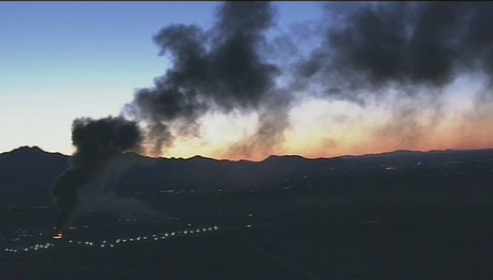 PHOENIX (CBS5) -
Phoenix firefighters say they will let a transformer fire in north Phoenix burn itself out.
The fire broke out about 10 p.m. Monday near the Scottsdale-Phoenix border at 67th Street and Pinnacle Peak Road, after witnesses reported seeing a huge fireball in one of the nine transformers at the APS substation.
Firefighters told CBS 5 News reporter Jose Miguel that the fire was burning so hot that water was evaporating before it could reach the flames. Foam was tried instead, according to command units on the scene.
A fire spokesman said the fire could burn for days.
Temperatures were reported around 30 degrees in the desert area of the substation.
A thick plume of black smoke could be seen across the valley. The state Department of Environmental Quality said the plume is nontoxic and poses no health hazard to the public.
Because it is a fire with electricity, crews were being extra careful and had to wait until the power was turned off to the remaining nine transformers to battle the blaze, according to Capt. Scott Walker of the Phoenix Fire Department.
"These transformer fires, they can be difficult," Walker said. "It's just not safe until the power is off."
Walker said approximately 40 firefighters were battling the blaze in the rural desert area, and that the situation was compounded by highly-flammable mineral oil in the transformers.
Walker said there were about 35,000 gallons of mineral oil, enough to fill two swimming pools, is burning inside one of the transformers.
Walker said there are few homes in the area and that APS says no homes or businesses lost power, though flickering lights were reported in downtown Phoenix about the time the fire broke out.
Pinnacle Peak Road is closed between Scottsdale Road and Tatum Boulevard.
No cause of the fire had been determined.
Copyright 2011 KPHO. All rights reserved.