Goudeau victim: He's a 'monster disguised as a human'
Posted:
Updated: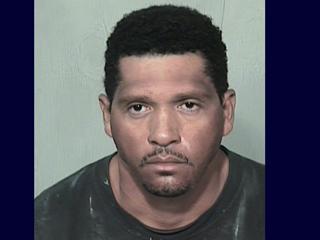 PHOENIX (CBS5) -
Convicted killer Mark Goudeau proclaimed his innocence in a courtroom Monday, but it didn't do him any good.
Judge Warren Granville added nearly 1,200 years in prison to his sentence Monday afternoon.
Monday's hearing was a chance for victims of the non-fatal crimes to speak about the impact of Goudeau's crime spree between 2005 and 2006.
Goudeau was convicted of nine murders and dozens of other felonies Oct. 31. Last week, a jury handed him death sentences for each of the murders.
One of the victims - a mother who was sexually assaulted in September 2005 - spoke to CBS 5 News Monday afternoon. We are concealing her identity because she's a rape victim.
"We had a gun to our head. We didn't know what to do," she said.
She and her 12-year-old daughter were waiting in their car outside Poncho's restaurant in south Phoenix when a predator in a fisherman's hat kidnapped and sexually assaulted them.
"(The trial) brought back a lot of memories. It brought back a lot of hurt and a lot of guilt for being able to be alive," she said. "But I didn't know how to let go of the pain."
She says Mark Goudeau is a "monster disguised as a human."
She attended nearly every day of the trial, hoping it would help bring closure.
"It's been hard. I'm finally glad this is closure. I'm not looking back. This is it," she said.
Copyright 2011 KPHO. All rights reserved.